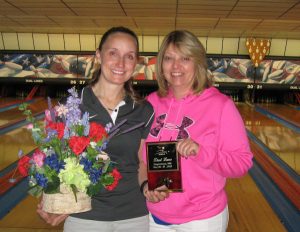 Amy Sykes was the winner of the WNDA Frank Turner Duckpin Classic in 2016. In route to the victory, she broke the five(5) game & twelve(12) game World Records.
Staying in form, she defended her title in 2017 which was held Memorial Weekend…May 26-28. Sykes was the top qualifier with a seven(7) game total of 1129.
She went 4-1 in the semi-finals to advance to the bracket finals…won her bracket & the the semi-final round and topped Leah Lancaster in the final match to pick-up the $3000.00 paycheck.
For complete results, go to wndatour.com
Sykes(L) is pictured with WNDA President Tammy Ashworth