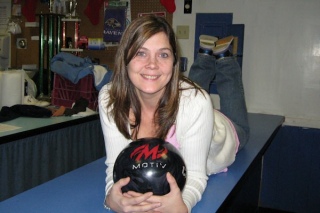 Tracy Brown bowling in the Flying Feathers Mixed League tossed her first career perfect 300 game.
She followed the perfect effort with games of 214 & 248 for a career high 762 set.
For the 300 game, Tracy will receive a plaque and $100.00 from Dual Lanes and awards from the Mason-Dixon Women's Bowling Association & the United States Bowling Congress.
She will also receive three(3) other Dual Lanes House Awards:
$50.00 for a 700 set
$25.00 for bowling 100+ pins over her 196 average
$25.00 for bowling 150+ pins over her average for set