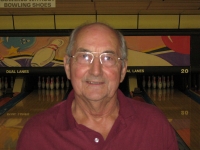 Marvin Smith bowling in the Richard Pentz Men's League tossed his first perfect game at Dual Lanes and the second of his career at the age of 74…46 years after his first perfect game.
He bowled his first 300 game on April 12, 1964 at the U.S. Naval Station in Wahiawa, Hawaii.
This ranks Marvin 4th in USBC history for the longest time between first & second 300 games. The longest is 67 years.